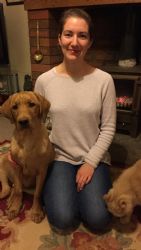 Megan is a Chartered Physiotherapist and ACPAT registered Veterinary Physiotherapist. She joined the team back in December and is doing a great job.
Megan studied at the University of Huddersfield to gain her BSc in Human Physiotherapy she then moved to Wiltshire to start her career in the NHS where she still works two days a week as a senior physiotherapist treating musculoskeletal conditions.
She went on to Hartbury University Centre to study Veterinary Physiotherapy (PG Dip) and is currently completing her research year to gain her full Masters degree.
When she is not treating people, horses or dogs she enjoys running and looking after her own two horses.